The rise in ISPs turning to fixed wireless networks
June 19, 2019
---

Although fixed wireless technology has been around for decades, in the last decade in particular, an increasing number of Tier 1 service providers are embracing fixed wireless technology in order to deliver high-speed broadband services to their customers. This blog investigates why these providers seem to be increasingly adopting the technology.
There are a number of key benefits to using fixed wireless equipment within a network – and none more so than the increase in bandwidth that it brings. Previously, wireless solutions had very limited bandwidth to the end user, but in recent years, as technology has evolved it is now capable of offering gigabit speeds to customers.
How are Tier 1 provider benefiting from using fixed wireless systems?
Many ISP's have realised that rolling out an all fiber network (particularly from scratch) would be a lengthy and extremely expensive operation. The installation costs and the added complication of battling with existing providers over access rights, means that fiber projects can stall and bills accumulate. Instead, many ISP's have come to realise that using amix of both fixed wireless and FTTX equipment means they can benefit from 'the best of both worlds' and achieve gigabit speeds for their customers.
Simple wireless point-to-point links can save hours of time and hundreds of thousands of pounds where laying fiber and gaining access rights would have stalled a project in its tracks.
Replacing outdated infrastructure with wireless technology
Many ISP's are also utilising fixed wireless equipment to serve both business and residential customers, by using point-to-multipoint technology and installing the wireless equipment on the customers premises rather than using existing copper connections to the building.
One of the most popular technologies being adopted for this connection is millimetre wave technology, which works over short distances and is capable of gigabit speeds. It is the optimal technology for connecting customers in the last 500-2000 feet of a network without using copper cabling which is only capable of up to 400-500Mbps.
Another benefit of using fixed wireless over fiber is that providers are able to beat the competition into offering it to customers. If a customer has been waiting for faster speeds but fiber is yet to be deployed to their home or business, they will be more likely to make the move to a new ISP that can offer the speeds here and now.
Fixed Wireless for Smaller Service Providers
It's not only Tier 1 service providers that are benefitting from deploying fixed networks either. In fact, there have been local and regional Wireless ISP's (WISP's) that have been using fixed wireless for years. These providers have gained popularity in rural areas where larger service providers have never bothered to go because they felt the low population density didn't justify the cost.
It is also gaining traction amongst utility companies and cooperatives which offer broadband to supplement their standard revenue channels.
Utilising fixed wireless equipment in hybrid networks in fast becoming the standard for ISP's around the world. It offers a unique and competitive advantage over competitors and it is both reliable and affordable for customers.
It allows increased coverage to the provider without the need to implement complex infrastructure with fiber cabling. This kind of agile network is the result of years of fine tuning and balancing the need to provide high-quality services in a way that benefits both the provider and the customer.
At Carritech, we support telecommunication service providers with a range of products and services, including replacement part supply, repair and refurbishment and ongoing software support.
If you would like to learn more about how Carritech can help you extend the life of your telecommunication network, contact us today.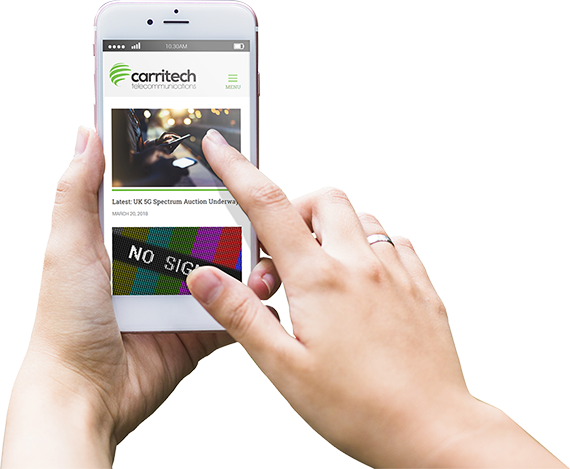 Stay informed!
Get all of our latest news sent to your inbox each month.