Latest: UK 5G Spectrum Auction Underway
March 20, 2018
---

Today (Tuesday 20th March) sees bidding begin in the UK auction for spectrum in the 2.3 GHz band (2350-2390 MHz) and the 3.4 GHz band (3410-3480 MHz and 3500-3580 MHz), in a process likely to take several weeks to complete.
There are six registered bidders taking part in the auction:
Airspan Spectrum Holdings Limited
Connexin Limited
EE Limited
Hutchison 3G UK Limited
Telefónica UK Limited
Vodafone Limited
Spectrum auctions happen frequently around the world, but with the recent increase in development of 5G technologies and plans to bring the next generation of services to consumers over the next few years, this auction has generated a lot of interest. Not only that, but the ongoing legal challenges brought by EE and Three which have delayed the auction have also resulted in more coverage of the event.
The 2.3 and 3.4 GHz spectrum is likely to be used by mobile network operators to deliver additional capacity for mobile broadband. The 3.4 GHz spectrum may be used for 5G services.
What is spectrum?
In wireless communications, signals travel from their source to a receiver via radio frequency. Everything from television, radio, GPS and mobile phone services transmit information in bits through the air in this way. The collection of radio frequencies that are available for transmission is known as wireless spectrum.
If we take radio as an example, when tuning it to your desired channel you are 'telling' the radio which frequency to 'listen to' and therefore which stream of data to convert to audio output. No two radio stations will transmit over the same frequency, at the same time or in the same area because it would result in interference and distortion.
This works in the same way across any type of service sending or receiving data via radio waves.
In each part of the world there is a managing group or agency (usually part of the government or collection of governments of the broadcast area) which manages, allocates and auctions spectrum to companies or organisations that then use that portion of the spectrum for their services.
What is spectrum allocation?
The amount of spectrum available to operators is finite, and therefore must be auctioned to ensure that each company has a fair chance to obtain more spectrum if desired.
The groups that control the spectrum allocation also decide which frequencies can be used for which purposes, for example for the use of mobile phones, generally spectrum between 700MHz and 2.6GHz is allocated. These allocations are usually based on the optimum wavelengths available for each service.
Most of the spectrum has now been allocated, and operators looking to increase their service capacities aren't able to acquire more. The problem is that as the industry continues to grow, and more people purchase devices that rely on wireless connectivity such as smartphones, there is a much greater need for more spectrum to become available.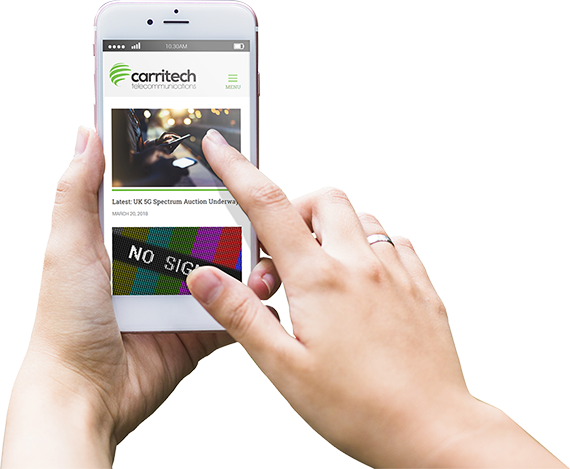 Stay informed!
Get all of our latest news sent to your inbox each month.