Telecom Inventory Management – Managing Excess Stock
---

A network's infrastructure is responsible for the delivery of services. As the telecommunication industry continues to evolve and grow, so too does demand. 
It is a common problem within the industry that many operators do not know what surplus equipment is in their warehouse. Whether this is due to rapid growth of surplus equipment or a change in processes, accurate inventory management is important for carriers to operate their network efficiently, to provide the best services for their customers. 
When it comes down to it, services can only be as good as the equipment in their networks as they cannot function without them. It is important for operators to be fully aware of all the equipment in their warehouse and how well they are functioning. 
Why is Telecom Inventory Management Important?
Telecom inventory management ultimately means knowing what equipment you have in your possession. By considering each product, even those that you may think are redundant, you will understand what part each piece of equipment has to play. This makes it much easier to build upon network resources as services develop.
Operators may find that their telecom inventory is continually growing, making it difficult to manage. It is important you keep on top of knowing what is in your warehouse to establish an efficient approach and to minimise unnecessary expenditure. 
By managing your network inventory, it helps to safeguard against paying for unused equipment. Removing excess stock from could result in a quick return of investment as well as freeing up space in your warehouse. This could allow you to scale down your current space, helping to reduce warehouse costs. 
Another reason why telecom equipment management is important is because technologies are frequently changing. New lines and services are being introduced all the time. This could lead to operators constantly changing their inventory to suit demand. 
It is also better to deal with excess inventory sooner rather than later. The older the equipment becomes, the more value will decrease over time. Manage your assets now and benefit from the price possible. 
Inventory management can help reduce the stress of the work. Many network operators do not have the time to manage their equipment themselves. This is where an inventory management solution from a service provider comes in. 
How to Manage Excess Stock
When you know that you have excess stock in your inventory that is no longer of use to you, do not throw it away. According to the European Waste Heirarchy, reuse and resell are preferred before recycling to protect the environment.
Instead of sending your equipment to a recycling company, there are a number of things you can do with the stock. These can lead to good results for you including return of investment, hassle-free removal of unwanted assets and improving stock visibility.
Reuse Parts Where Possible

Before removing any equipment, you should see whether it can be used in your network. It can be difficult to know what telecom assets you possess as they build up over time. Through asset management you will be able to gain a clearer image of any equipment that would be beneficial to your network.
Similarly, you might consider keeping spare parts in case of network outages. Problems will eventually arise at some point and it is important to pre-emptively prepare for when it does happen. Avoid downtime by keeping spare equipment that can be swapped in at a moment's notice.
Many operators around the world continue to use legacy equipment that may be past 'end of life' or 'end of support'. Whilst the equipment is fully functional, it can be difficult to acquire parts when they need to be replaced. Keeping spare equipment in your inventory aims to combat this. 
Sell Unwanted Equipment

Another option with excess stock could be to sell your unwanted equipment. This will give the assets a second lease of life in another network and avoid sending products to be recycled.
Selling telecommunications equipment can give you a great return of investment that you would not otherwise get from selling it as scrap. Prices within the telecom market often fluctuate, so it is important to work with an experienced buyer to ensure that your products are sold for the best price possible.
This is the ideal solution for companies looking for a quick disposal of assets for financial gain, without tying up management and technical resources.
Recycle Assets of No Value

Though reuse of equipment is always preferred, it is not always possible. If your unwanted products are beyond repair or of no value, recycling may be the best option.
Choosing this option will mean that your network assets will be removed in a way that adheres to environmental standards. Precious metals and non-ferrous metals are extracted and used elsewhere. This helps to reduce waste going to landfill and could provide you with return of investment.
Working with Carritech for Telecom Asset Management
At Carritech we offer the full solution for telecom inventory management service. Working with you, we can provide you with a detailed inventory of the equipment that is currently sitting in your warehouse. We then use this information to determine which parts are required and which can be removed.
Our team have over 45 years of combined experience in the industry. We use this expertise to understand the equipment that is available in the marketplace and its value. Whether you are looking to reuse equipment, source spare parts or sell unwanted equipment, we can support you with your needs.
Benefit from a hassle-free and fully managed model that takes responsibility of the equipment as soon as it is collected. Once we have agreed the items for sale, we will provide you with a price which can be inclusive of all packaging, removal and shipping to our warehouse.
To find out more about the telecom support services we provide, please contact the team by email to contact@carritech.com, call 0203 006 1170 or through our online form. We will be happy to support you and your network.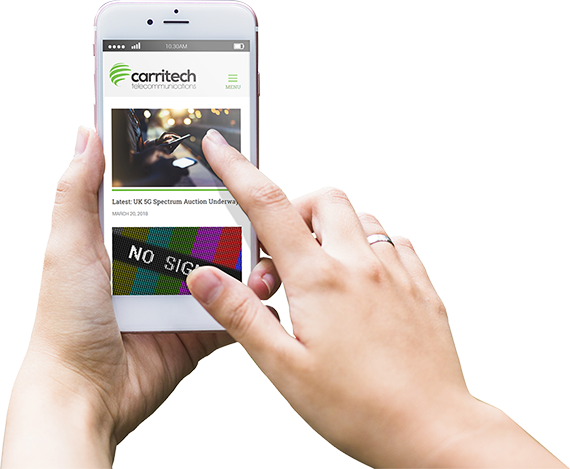 Stay informed!
Get all of our latest news sent to your inbox each month.