Opinion: What can we expect from the telecommunications industry in 2019?
January 8, 2019
---
2018 was a year of many 'firsts' for network operators looking to benefit from the rise of 5G, but what is in store for 2019? In this blog, we take a look at some of the hot topics of the telecommunications industry and make some predicitons for the year ahead.
Network expansion and the rising demand for data
There is no denying it, our world is becoming ever-more digitally driven, and demand for data (particularly mobile data) has increased ten-fold over the last few years. With new mobile technologies driving consumers to demand high-speed connectivity for longer periods of time and in more locations than ever before. In order to keep up with this surging demand, Mobile Network Operators (MNO's) are going to need to expand their capacity by bolstering existing and installing new equipment at all levels of the network.
This will coincide with existing efforts for operators to prepare themselves with the advent of 5G by acquiring as much higher bandwidth spectrum as possible. There are a number of auctions planned throughout 2019 which will undoubtedly shape the future of MNO networks.
5G will start to happen (sort of)
Last year we saw the foundations laid for 5G technology, as well as trials increasing around the world. Although many "firsts" were announced by operators and marketed as breakthroughs throughout 2018, there is still a long way to go before we see true 5G networks made commercially available. In 2018 around 70 operators were testing the technology with a handful launching some form of 5G service. It is likely that most of the hype for 5G services will calm during the year, as more consumers start to realise; they aren't going to benefit from the work operators are putting into the next generation of networks until 2020 at the earliest.
As the infrastructure for 5G technologies begin to be implemented around the world, technologies such as AI, smart-cities and IoT (Internet of Things) will start to build more momentum throughout 2019.
Security will need to improve
It seemed not a week went by in 2018 when we didn't hear about the latest data breach, not only in the telecommunications industry but in across all sectors. This issue will need to be tackled, and fast. If organisations are going to retain customers and win new consumer business, they will need to prove their data security procedures more than ever before.
GDPR was introduced tio th UK in 2018, but 2019 will be the year where outdated practices will need to be dealt with as top telco companies increasingly come under fire for their handling of user data.
Consumers want to know what data is being used and where it is being stored more than ever before. Telcos are likely to attempt to improve security across all layers of their network and use the improvements to market their products against competitors.
The Rise of SD-WAN
SD-WAN (Software Defined Wide Area Network) is likely to continue to gain traction throughout 2019.
Software Defined Wide Area Network technology has matured over the last couple of years and it is now at the point where it can enable enterprise customers to decouple the last mile provider from the equation. This means that they can select the best network for each location and gain huge economic improvements as well as substantial performance, flexibility and control gains. Providers that have location intelligence will be able to quickly and easily provide optimal last mile connections and combine that with new SD-WAN managed services to drastically improve their offering and win more business.
Legacy telecoms products will continue to bolster existing networks
Each year telecommunications network providers around the world continue to purchase legacy telecommunications equipment to continue and improve their services and 2019 won't be any different. Although advances are happening fast in new infrastructure technologies, the relatively slow rate of development at the front of the market means that legacy equipment is still incredibly popular.
What are your predictions for 2019? Tweet us your thoughts @Carritech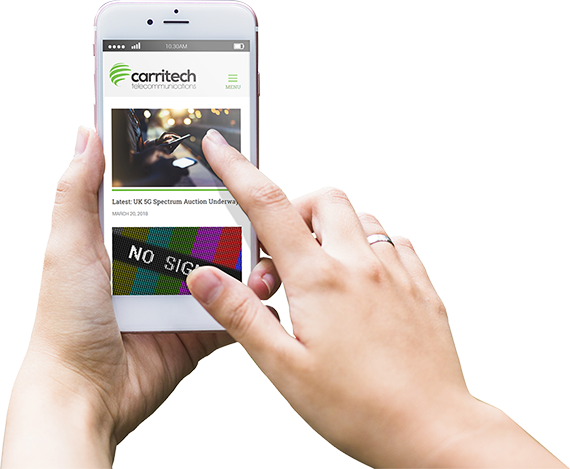 Stay informed!
Get all of our latest news sent to your inbox each month.