What does 2018 have in store for the telecoms industry?
December 20, 2017
---

As 2017 comes to a close, we have taken a look at some of the exciting things that we can expect to develop within the telecoms industry next year.
5G
What is 5G? Click here to read more details.
There has been a lot of excitement for 5G throughout 2017, driven mainly by telecom carriers and IoT manufacturers keen to use the interest to boost their marketing and PR efforts, however this has been somewhat dampened over the last few months as no clear pathway to 5G exists and standards are yet to be drafted. Although, there is the possibility that this could change in 2018 with the ITU (International Telecommunication Union) anticipating a pencilled version to be ready at the beginning of the year.
It does seem that things are heading in the right direction (in the UK at least), after £16m in funding was promised by the chancellor Philip Hammond as part of the Spring Budget, designed to aid researchers in the further development of a 5G test network with an aim to put Britain at the forefront of mobile innovation.
This budget will be split between research teams in some of the country's top universities throughout 2018, in an effort to get the UK ahead in the race to provide 5G services.
IoT
What are the Internet of Things? Click here for more details.
In simple terms, the internet of things is the name that has been given to the entire spectrum of devices which are connected to the internet, and/or to each other and can be switched on or off. These devices include the obvious things, such as mobile phones, computers, wearable fitness devices, smartwatches and tablets; but also, may include devices like lamps & light fittings, washing machines, fridges, cars, door locks and even furniture, but to name a few. In reality, these devices could be mostly anything you can think of.
There has been a massive surge of interest in this field throughout 2017, in line with all of the 5G hype because the two sit together as part of vision for a wider connected society.
However, after all the frenzy over the idea of getting out of bed on a freezing January morning, the shower turning on automatically, toast popping three seconds after you've boiled the kettle and your car defrosting itself, the reality is that the market growth is slow.
This may be because of the uncertainty in the timing of commercial 5G services, but it is likely that during 2018 more efforts will be made to drive this market forward and calm investors nerves.
Li-Fi
What is Li-Fi? Click here to read more details.
Li-Fi technology began to gain some real traction in 2017 and it is continuing to be mentioned in most industry forecasts for next year. In fact, it is estimated that by the end of 2018, the Li-Fi industry is set to be worth $6 billion.
Manufacturers are beginning to look seriously at this technology and develop products that will utilise its properties. It's certain that in 2018 much more will be done to push Li-Fi towards commercial realisation, but it is also likely that more setbacks will come first.
According to professionals in this field, they have estimated that this technology could be available on the high-street in around five years but the development of the technology and science behind Li-Fi and in particular the ability to carry data via photos rather than electrons is still very new so there could be more obstacles to overcome before this concept becomes a reality.
Small cells
What are small cells? Click here for more details.
Mobile connectivity requirements are increasing at an unparalleled rate. Now that so many devices rely on wireless networks, particularly in highly populated areas such as towns and cities, network operators are forced to find robust solutions that allow for higher bandwidth than traditional options as well as remaining efficient in terms of power usage.
A recent approach taken by carriers has seen the introduction of small cell architecture in developing and developed markets around the world. Unlike traditional cellular networks, these small cells enable operators to increase the performance of the network connectivity for their consumers. That's because they traditionally use large cell wireless transmitters to service a wide area, whereas a higher quantity of smaller cells is more effective; even out to the edge of existing networks.
Carriers have begun to show early interest in purchasing and installing small cells within their networks, in an attempt to pre-empt 5G services and ensure strong and stable connectivity for the users of their networks, but 2018 will see a real boost in popularity of the technology.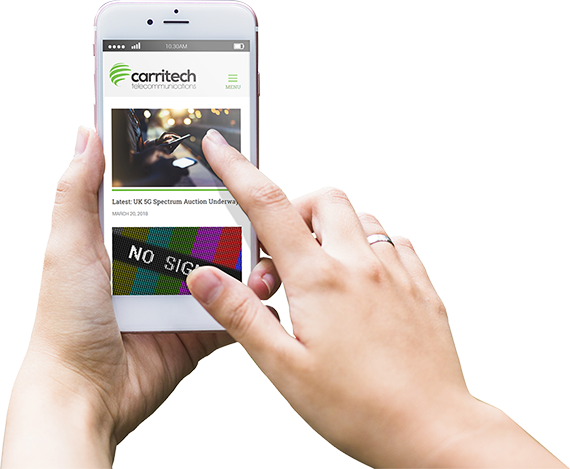 Stay informed!
Get all of our latest news sent to your inbox each month.