SFP+ Equipment
You are viewing the search results for all SFP+ optical transceivers.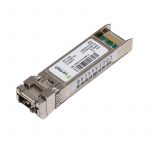 To refine your search, simply enter the part number you are looking for into the 'search equipment' field below. If you are unable to find the product you are looking for please contact us as we will most likely be able to acquire the product for you.
At Carritech, we stock thousands of used telecom parts and are able to ship for next day delivery. If you require further information on any of our telecommunications products please get in touch with us today.
If you are unable to find what you are looking for please contact us on sales@carritech.com or +44 203 006 1170